Feeling Grateful in Times of Hardship
12 September 2020
It is now a few months since restrictions were imposed and our lives changed overnight beyond recognition. While some of us were still allowing reality to sink in, other truly inspiring individuals set to work creating online workouts for housebound children, flyers to reach out to vulnerable neighbours as well as a Thursday night clap for carers.
These people saw a need. They also spotted an opportunity. They were able to harness their talents and new found time to give back to their communities, whether it was through a simple individual gesture that exploded in popularity, or a combined effort to deliver something more substantial, like the plethora of online lectures and programmes made available to all of us during the holy month of Ramadan. People were called to action in extraordinary new ways- and grabbed it. This is success.
The team at Al-Ayn were no different. Early in the pandemic, they had resigned themselves to the reality that there would be no Ramadan workshops for children, modest fundraising targets and disappointment all round both inside Iraq and internationally.
The office was now closed. All volunteers at home. Whenever called upon, they would make arduous journeys to collect cash from people's homes, complete with masks and gloves and receipts. Minimal interaction to ensure everyone's safety. It felt cold and hopeless.
As April neared the end, the holy month was upon us, where fundraising would normally snowball. But not this year, everyone feared. No more stalls outside venues and centres. No more large events.
But there was still a need. More so than ever, now that orphaned children in Iraq were suffering from this additional and unexpected blow. Funds were crucial and the effort not only needed to continue, but it needed to be intensified. This was an opportunity for innovation.
The generous spirit and commitment of volunteers and donors meant utilising every ounce of creativity to harness this opportunity in the best possible way. Ideas started to fly around as people set to create a very different but equally inspiring Ramadan campaign.
Children's workshops moved to online ones with astonishing results. More children, irrespective post code and accessibility to the Al-Ayn base in North West London, were now able to engage and benefit from these session. This increased the prominence of Al-Ayn and meant it was reaching more households than ever before ever.
Mother of two volunteer Amina kicked off the holy month with a sponsored 26000 step challenge, raising enough money to sponsor two orphans for a year. Soon, there were fasting 5k runs and 20k walks. Truly inspiring children like 5 year old Jenna and 2 year old Ali took part in their own challenges with the help of online fundraising pages. Each participant, as well as countless others, smashing their set targets and gaping in awe at the generosity of donors, support from friends, family, neighbours and even old acquaintances and strangers they met while undertaking their challenges.
This Ramadan has been somewhat different and understated. It has been sad without community and families coming together for iftar and worship.
However, it has provided an ideal time for self-reflection and a break from the noise and chaos of everyday life. It has allowed us to focus on what matters most, be grateful for what we have, and extend virtual hands to our communities and those in need, for there are certainly those in greater need than ourselves.
Gratitude is defined as' feeling or showing an appreciation for something done or received'. But in truth it is much more than this. It is the utilisation of one's blessings in a constructive and benevolent way.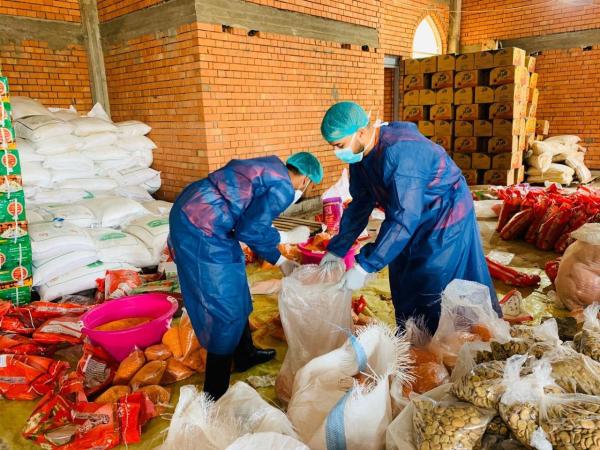 So how can we all practise gratitude?
Human beings are a collection of habits. It is the little everyday things that we do that ultimately paint our future and determine our direction of travel. Research shows that the best way to make a new habit stick is to pair it to an existing habit.
E.g.
Paying into a Sadaqa Box as you sit down to have dinner or a few stretches as you get out of bed. Small changes done regularly are more likely to be sustainable and become part of your routine.
Keep a gratitude journal. This has been proven to help focus one's mind on the positive aspects of the day and reflect more constructively.
Being grateful has been proven to enhance emotional wellbeing by making us feel prosperous and surrounded by blessings. Applying focus on the needs of others invariably takes that focus away from own difficulties. Allah (SWT) says in the holy Quran (If you are grateful, I will surely increase you (in favour)) 14:7. Counting your blessing will uplift you and help you find the silver lining when things seem bleak.
Thanking Allah more actively is utilising His blessings in His path. Think of what comes easily to you more than it does to others. This is a talent. Sharing your talents, wealth and time in the way of Allah is surely a more active gratitude we can perform. When we think of these blessings as gifts from Allah, we are more likely to share them with his creation.
Al-Ayn has been able through everyone's generous spirits to exceed last Year's Ramadan total and to support the orphaned children in Iraq.
To those who used their time, effort and imagination to make the holy month the most successful ever in terms of fundraising and creativity, we salute you!
Zainab Shalchi
Volunteer