Meet Karrar:
15 November 2020
An Aid Worker on the Ground Serving Families you Helped Support!
My colleague and I pause to admire the star-lit sky above us, but only for a few seconds because there is a lot of work to do and not enough time. We go back to loading our van with the aid boxes from the heavy steel trolleys we've just pushed together from the Al-Ayn warehouse. I can tell the sight has had an effect on him though; the blue mask he wears hides his smile but not his crinkled eyes. Somehow the sight of the star-lit has been a source of comfort every night in what has been a very difficult few weeks, perhaps the most challenging campaign we have worked on since joining Al-Ayn.
We work quietly, the thumps of the boxes hitting the van's inner floors echoing through the silence of the city. Soon, the van is filled up and I climb into the driver's seat as we begin our distribution round. My colleague sits next to me in the passenger seat and holds in his gloved hands the list of families which we will be visiting along with their addresses. Some of them are homes of orphaned children that we've frequented before; others are places we haven't yet been to, new families in need affected by the lockdown.
We both glance at the dashboard's digital clock as we set off – there are still some hours to go before curfew begins, but we need to be quick. Behind us, the van's contents rattle. *Each aid box is filled with essential items, including rice, cooking oil, flour, sugar, condensed milk and canned food, as well as disinfectants products. The aid boxes come as huge relief to families in need who are vulnerable and unable to access basic supplies. As we make our way through our list of homes to visit and unload our van, we are careful to follow the protective measures which we received training on, to ensure protection of the families receiving our aid.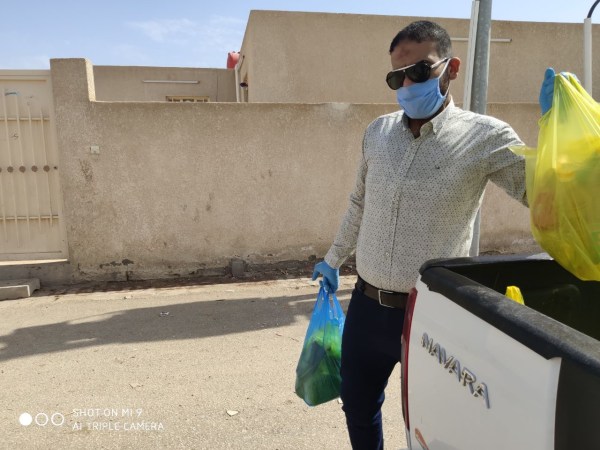 The curfew in place and the need to follow safeguarding measures has made it particularly challenging for aid workers. Despite everything, we have been overwhelmed by peoples' generosity.
As dawn breaks, we look out at the sky again – now, it's a bright orange with pink streaks. I park the empty van outside the warehouse and we wave goodbye at each other before we each head home. Behind his mask, he is smiling again.
*Update: Over the past week alone, 137,000 food aid baskets have been distributed thanks to your support.
Karrar
Al-Ayn Aid Worker